Commercial Pressure Washing - Greenville
Commercial Pressure Washing - Greenville
Does your building need to go from dull to dazzling? In the commercial pressure-washing business, it's often remarkable to observe the dramatic transformation in a building after we have cleaned it. Suddenly, the structure and its surfaces come alive, not only adding a wow factor but also increasing the value of the building as well as the reputation of the company that occupies it.
Pressure washing, unlike soft washing, enhances the facades of Greenville area buildings by removing years of built-up dirt and grime from exterior spaces. Such substances, including organic growth and the residue of airborne pollutants, can damage properties over time if you do not have them removed periodically from the building's surfaces.
Mold, moss, algae, and mildew that grow on commercial structures in humid areas will eventually erode the surfaces, causing structural weaknesses, not to mention unsightly buildups. Whether your commercial building has wood siding, vinyl, brick, stone, or concrete, the debris and dirt buildup can cause extensive damage and lead to costly repairs.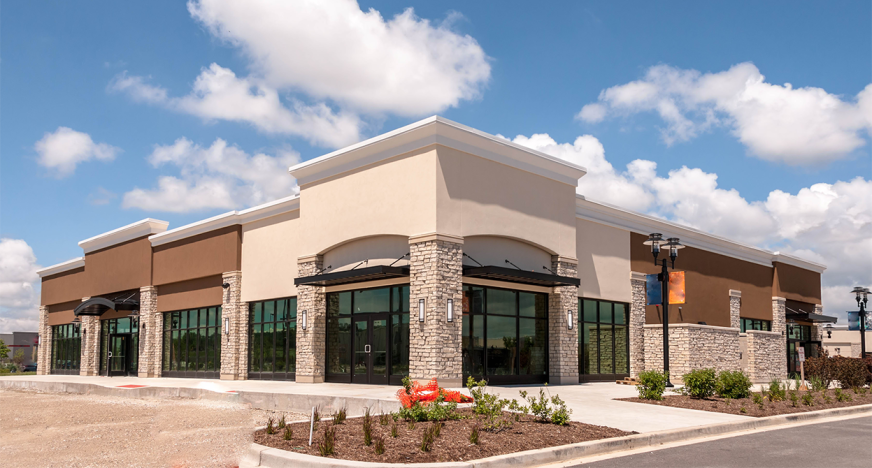 What Makes Us Stand Out From the Crowd
At Cruddy Cans, we provide pressure washing services to commercial properties in multiple locations around Greenville. We use the most cutting-edge eco-friendly, high-speed cleaning equipment available on the market to deliver an extraordinary power washing job.
Our industry-leading pressure washing equipment systems use hot water, steam, and variable pressure to kill bacteria and remove grime without the use of harsh chemicals. Manufacturers have designed this innovative equipment to clean and sanitize buildings faster and more effectively than anything else on the market.
The mechanism involves the use of high-powered jets on a bar. When the water is flowing, the jets rotate and swivel for optimal results. Our tools get the job done more quickly than ever before while also delivering consistent results.
Benefits of Commercial Pressure Washing Services
Pressure cleaning keeps commercial buildings looking superb. At Cruddy Cans, we use modern equipment and tools to clean your business property and maintain its integrity and appeal. Our power washers treat every business property as our own to deliver exceptional results.
A commercial pressure wash service will improve your business image because it involves washing sidewalks, parking lots, signage, the roof, and other outdoor spaces as well as the sides of your buildings. Other benefits include:
Improving property value. After we finish our cleaning job, including the roof areas, everyone in your community will sit up and take notice of your building and find it more desirable, thus improving your property value.
Improving your building's curb appeal. A sparkling clean property will look attractive and enhance the appearance of your entire community or neighborhood. The paint on your exterior walls will look new, luring potential customers to your business. It will also appeal to prospective property buyers if you plan to put it on the market for sale.
Providing liability protection. Substances that build up on the exterior of a building are potential health hazards for employees and customers. The buildup on the horizontal surfaces, such as walkways and steps, can cause slip-and-fall accidents. Power washing commercial properties helps reduce the risk of injuries and lawsuits.
Our Commercial Pressure Washing Services in Greenville
Our range of pressure washing services for your commercial property may include:
Exterior Building Washing
The dirt and grime that build up around commercial premises, if left untreated, become a slip-and-fall hazard. This is especially true in wet weather conditions.
We remove mildew, moss, dirt, debris, algae, and other potentially harmful substances from the exterior of your business building and grounds. Our pressure washing job will eliminate all slimy and grimy substances that accumulate on paved or stone surfaces as well as on the building structure itself. Our goal is both to improve safety and enhance the appeal of your property.
Greasy, slimy dumpster zones or slippery engine fluids on the floors of automobile repair shops can easily cause falls and injuries. At Cruddy Cans, we power wash and use effective detergents on slick or oily surfaces to make your commercial space less hazardous.
Commercial Building Maintenance
We sign contracts with businesses to offer them ongoing commercial maintenance services. Our technicians usually visit customers to provide a pressure washing job on a monthly basis.
Each monthly washing job usually covers patios, sidewalks, walkways, steps, ramps, and dumpster pads, among other important spaces outside business buildings. Our professional washing company tailors each commercial pressure washing service to meet the unique needs of every customer.
Construction Site Clean-Up
We can help keep your construction site clean during a building project or after it comes to an end. Our technicians will use high-powered water pressure machines to wash sites during or post-construction.
At Cruddy Cans, we also provide tenant space preparation for commercial development projects. We will pressure wash each residential space before tenants move in.
Other important pressure washing services we offer include:
Concrete cleaning
Vehicle and equipment fleet cleaning
Graffiti removal
Storefront cleaning
Parking lot and garage cleaning
Oil buildup removal
Gum removal and gutter cleaning
House washing and more (no job is too big or small)
Why Choose Our Professional Pressure Washing Company?
Our commercial pressure washers are experienced and well-trained to offer reliable cleaning services in the Greater Greenville region. Our team of cleaners knows how to use and handle a pressure washer for effective and safe cleaning.
We've been in the industry for many years, offering premium power washing services to local businesses. We prevent falls, slips, and extraneous sprays to ensure that anyone within your business premises is safe.
Latest Professional-Grade Equipment
We have invested in the most recent professional-grade power washing equipment to deliver prompt, effective, and safe cleaning services.
Jobs Completed in Half the Time
The state-of-the-art equipment we use for power washing completes jobs in half the time it previously took us and that it takes traditional cleaners.
No two commercial buildings are the same, nor are the needs of customers. We work to satisfy customer needs each time. We only leave your business premises when we're certain that you're satisfied with the pressure wash results we've delivered
We use safe, non-toxic, and environmentally friendly cleaning solutions and techniques to clean commercial properties. Our solutions and processes do no harm to people, pets, or the environment.
Our commercial pressure washing solutions ensure that the plants and people (employees and customers) around your business premises will not sustain any injury or harm.
Our pressure washing team in the Havelock also:
Is fully insured and licensed
Owns a 48″ surface cleaner
Offers heated service cleaning
Provides equipment that both cleans and sanitizes
Hire a Reliable Commercial Pressure Washing Company
At Cruddy Cans, our professional pressure washing company is a leading service provider in the regional pressure washing industry. We'll keep your business clean using cost-effective, efficient, and reliable power washing methods.
We bring you experience in pressure washing diverse businesses, from hospitals and office buildings to restaurants and apartment complexes in Greenville.
Call Cruddy Cans at
252-474-7717
to get a free quote from our professional washing company.