Dumpster Pressure Washing - MooreHead City
Dumpster Cleaning Service for Businesses / Commercial Buildings
According to the North Carolina Department of Environmental Quality, each person in MooreHead City creates about 1.05 tons of trash per year. This number equates to more than 10 million tons of waste every year from the entirety of North Carolina, which sits in dumpsters, enclosures, and construction waste containers before ending up in landfills and recycling plants.
Our dumpster cleaning experts from Cruddy Cans are deeply familiar with health and building codes in MooreHead City. We know the importance of regular maintenance, pickup, and delivery of trash containers for commercial owners and operators. We'll clean any size dumpster at the most affordable price point.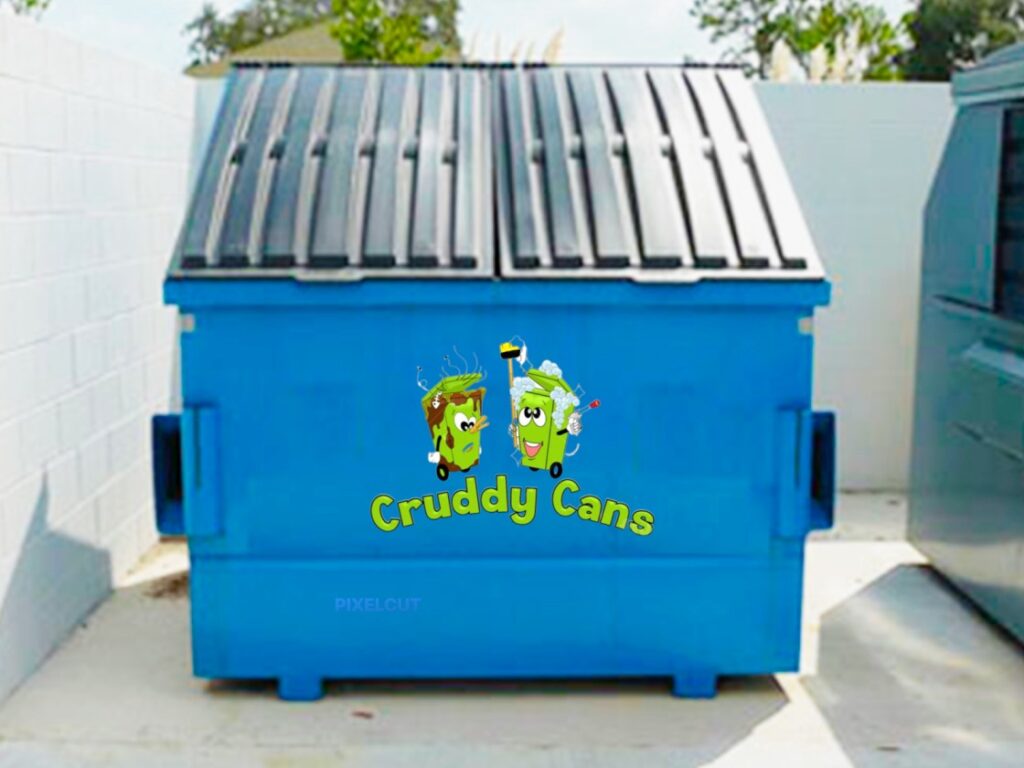 What Makes Cruddy Cans Different in MooreHead City
Cost-effective junk removal is an essential part of every construction project, commercial operation, and household maintenance. On any given day, hundreds of people are looking for waste pickup, hauling, and delivery services in MooreHead City.
At Cruddy Cans it is our philosophy to let our work speak for itself. When you ask us to clean dumpsters that have been in faithful service to you for decades, we will show up on time and find the most cost-effective way to process your trash. We treat every project like the customer is family and don't stop until your dumpster looks like new.
The Benefits of Hiring Us to Clean Your Dumpster in MooreHead City
Property managers and commercial operators who neglect dumpster maintenance in MooreHead City find out the hard way how important it is to maintain their dumpster space. If you leave biodegradable waste in a container, it can grow bacteria and mold and attract flies and maggots. Non-biodegradable waste, such as chemicals and oil, can catch fire when the container is left in the sun too long.
A clean dumpster area will give your employees and customers a safer work space. Moss, algae, mold, and dirt can develop under your container without anyone noticing, and our experts are here to stop that. Frequent cleaning reduces the chance of attracting raccoons, rats, and other wildlife, which prevents these creatures from nesting in your gutters and roofing.
Building and Health Code Compliance Planning
Most new businesses in MooreHead City are paying it forward by exceeding the disposal requirements in city health and building codes. Having a well-maintained dumpster that's free from debris will reduce the accumulation of bacteria such as E. coli and salmonella that frequently pollute the exterior spaces of foodservice businesses.
MooreHead City is a beautiful community with many structures on the National Park Service Register of Historic Places. We're proud to be the top-rated service for property owners who want to preserve its vibrance and charm.
Higher Returns on Investment
As professionals with decades of experience in all kinds of garbage disposal and cleaning projects, we entertain hundreds of commercial clients who look at price and cost control with a scrutinizing eye. They want a quick ROI on every service request and project.
Our dumpster pad cleaning service will allow your employees to invest less time in the garbage disposal process and focus on tasks that add value to your bottom line. Keeping the area around your dumpster clean and maintained makes your property more welcoming to clients and improves your curb appeal.
Our Range of Dumpster Cleaning Services
Commercial Enclosure Cleaning Projects
If you need a dumpster cleaning service for your commercial enclosure, your search is over. We offer the best pricing and on-time scheduled visits to match your budget and operating hours. We can remove all types of debris, stains, and odors from any size dumpster and the surrounding brick or concrete with a broad range of high-pressure and soft-washing techniques.
Construction Debris and Junk Removal
Experienced builders know the importance of hiring a dumpster service when a project is underway and a debris and scrap removal service when they finish. Our professionals can remove debris from your work site and use industrial pressure washers to remove stains from all surfaces. Our trucks can carry any size load of concrete, scrap, and other excess construction materials to a landfill.
Every year, new dumpster cleaning companies pop up in MooreHead City allowing property managers, warehouse custodians, and small business owners to meet city health codes and fulfill their waste processing duties. But dumpster cleaning is more than just hauling away trash. When you hire us to clean your dumpster, we bring years of experience, high-quality techniques and equipment, and a commitment to top-notch customer service.
Our Experience Sets Us Apart
We have years of experience with home cleanouts and junk removal. We can clean up multimillion-dollar construction projects and process and haul toxic waste material. We have thousands of stellar reviews from clients in North Carolina who use our cleaners to keep their garage, dumpster enclosure, or job site free from pests and disease.
We Are a Top-Rated Service
We're proud to be the number one dumpster pad cleaning and commercial waste enclosure maintenance service in MooreHead City. We use pressure washers with variable settings, eco-friendly soaps and disinfectants, and stain removers to remove 99.9% of germs and microbes in your dumpster area.
Schedule Professional Dumpster Cleaning - MooreHead City
Dumpsters are more than just boxes for junk. Durable and well-maintained dumpsters help contractors remove construction debris from new buildings, help keep apartment buildings and commercial properties clean and sanitary, and prevent disease-carrying pests from entering your house.
If your household or company needs a dumpster cleaned, give us a call, and we'll accommodate your request. We can discuss pricing for any size dumpster, dumpster cleaning schedules, pickup times, and other details. We're famous in MooreHead City for being flexible and giving our customers the most cost-effective quotes in the area, and we always deliver on our promises.
When you need a dumpster cleaning service in MooreHead City the professionals at Cruddy Cans are the ones to call. If you want a free quote or just have a few questions, contact us by calling 252-474-7717.