Residential Pressure Washing - Trent Woods
Residential Pressure Washing - Trent Woods
If you're looking for pressure washing in Trent Woods the experts from Cruddy Cans are the ones to hire. We are the number one industrial, residential, and commercial property pressure cleaning company in Morehead City, and neighboring areas in North Carolina. We can clean your home's exterior walls, driveway, and garage with our innovative combination of soft washing techniques, high-pressure power washing with state-of-the-art equipment, and environmentally friendly detergents and stain removers.
When you work with us, you can be sure that our trained professionals will use industry-leading equipment and do the job right the first time. We can permanently remove stains and grime from your patio, deck, brick and wood exterior surfaces, driveway, and roof. It's an excellent way to improve your curb appeal and increase your return on investment in your house, business, or commercial property.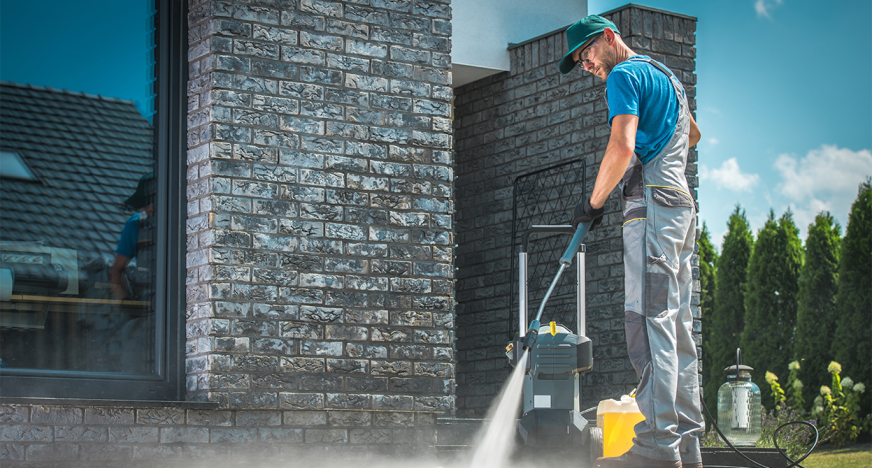 Pressure Washing and Soft Washing Experience That Sets Us Apart
Trent Woods is on the rise, and in the post-pandemic era, its inhabitants are becoming more careful than ever about the cleanliness of their home surfaces. Our pressure washing services are finely tuned to cater to the high standards of our residential and commercial clients.
We're deeply familiar with the sanitation challenges that structures in Trent Woods face on a daily basis. The city is on the National Register of Historic Places. It features many home exteriors, municipal buildings, and places of business with architectural designs that inexperienced professionals from a startup pressure washing service can ruin.
We have decades of experience providing high-quality soft washing and pressure washing services to residents throughout North Carolina. Our experience and professionalism make us the number one choice for residential and commercial clients in Trent Woods.
The Top Three Benefits of Professional Power Washing
Some property owners might think hiring a professional pressure washing crew sounds like a waste of time and money. After all, you can buy a pressure washer and clean your property yourself. However, when you see the damage that high water pressure can inflict on roof shingles, windows, and siding, you'll realize the benefits of working with professionals.
Pressure cleaning and soft washing can take years of training and real-world experience to master. Here's how we improve property values in NC with our low-priced services.
Pressure Washing Improves Curb Appeal
Pressure washing your house will not only improve its appearance but heighten the curb appeal of your entire street. For business owners, a hygienic storefront will let customers know that you care about their experience.
Pressure Washing Increases Property Values
If you're looking to sell your Trent Woods home or place of business, there's no cheaper way to higher market values than hiring a pressure washing service. Our industry-leading combination of variable pressure washing and soft washing techniques will give your house a brand-new look, increasing its value in the eyes of real estate brokers and potential buyers.
Soft Washing Offers Protection Against Health Risks
If your home or industrial property goes too long without soft washing, allergens and mildew will start accumulating on various surfaces, creating a health risk for your family, employees, and customers.
By hiring pressure washing professionals, you reduce the risk of slips and falls, asthma attacks, and various other threats to people inside your structure. Save yourself from lawsuits by getting rid of dirt, pollen, and other surface hazards.
Our Range of Soft Washing and Residential Pressure Washing Services
Pressure Washing Building Exteriors
Let us get rid of algae, moss, and dirt from your windows, gutters, and sidewalks. We work with many apartment owners, office property managers, and municipal offices to keep Trent Woods presentable for its residents and visitors.
Washing Dumpster Enclosures
Without periodic washing, dumpster pads and enclosures can host a variety of bugs and wildlife that can threaten your home as well as other residences and businesses around you. Our professionals at Cruddy Cans can help you conform to building codes by pressure washing waste disposal surfaces and keeping them free from stains, pests, and fungi.
Commercial Structure Maintenance
Maintain and future-proof your commercial infrastructure by keeping it free from pollutants, allergens, and vandalism. Our soft washing methods can ensure that your tenants enjoy beautiful living spaces without the need for remodeling and aesthetic refreshes every few years.
Cement powder, paint, and other construction by-products can permanently stick to surfaces like siding, interior walls, and floors without an experienced crew to help you clean up. We'll improve the value of your new build by making it look neat, well-groomed, and ready for business.
General Soft Washing and Pressure Cleaning
Our professionals at Cruddy Cans are also experts in the following services:
Commercial vehicle fleet cleaning
Graffiti removal
Garage and parking lot cleaning
Oil and chemical stain removal
Gutter clog removal
And many more
No project is too big or too small for our soft washing and pressure cleaning team. Call us today if you want to remove dirt from your siding, trucks, or parking spaces.
Why Choose Pressure Cleaning and Soft Washing Technicians from Cruddy Cans?
Our high-speed pressure cleaning and soft washing equipment allow us to finish every project in a cost-effective and timely manner. Hundreds of residents request us to clean only one area of their homes, such as their roof or driveway, and end up asking for complete cleaning.
A Broad Range of Services
Our class-leading soft washing services include a combination of hot and cold water, variable water pressure, and steam to kill all types of germs and microbes.
Unrivaled Professionalism
When you request our pressure washing services in Trent Woods we will show up on time, effectively clean your exterior walls and every surface you ask us to wash, and dispose of any remaining waste material safely and efficiently. Call us today, and we'll give you a free estimate for your particular project.
Meticulous Dirt and Stain Removal
We are meticulous about the project details of every job. Our years of experience power washing apartment buildings, loading bays, and sidewalks taught us that each customer is different, but they all want the best price. So, through hundreds of hours of washing home exterior surfaces and removing stains, mold, and debris from nearly every type of structure in Trent Woods we've learned how to provide our services at the most cost-efficient rates.
Get the Best Pressure Washing Service Today
At Cruddy Cans our decades of pressure cleaning and soft washing experience creates a unique value proposition that people in Trent Woods can't help but patronize. Our broad range of home washing services can clean the dirt, mold, and debris off your brick siding, deck, and patio without so much as one chip on the paint. Call 252-474-7717 today and get a free consultation.