Trash Bin Cleaning Service - Greenville
Trash Bin Cleaning - Greenville
You may not realize it, but your trash and recycle bins can play host to thousands of harmful bacteria, microbes, and pests that can inflict infectious diseases upon your customers, pets, and family members.
Greenville is a historic town where people love taking care of their residential exteriors. It's on the National List of Historic Places, and part of its charm can be seen in well-groomed public properties and houses that are free of bothersome smells, overflowing trash cans, and viral infestations.
Dumpster cleaning is an essential part of property maintenance. According to the Department of Environmental Quality, the residents and businesses of North Carolina generate about 10.5 million tons of trash per year. Their first line of defense against germs, bacteria, and fungi that lives inside rotting waste matter is professional cleaning services like Cruddy Cans.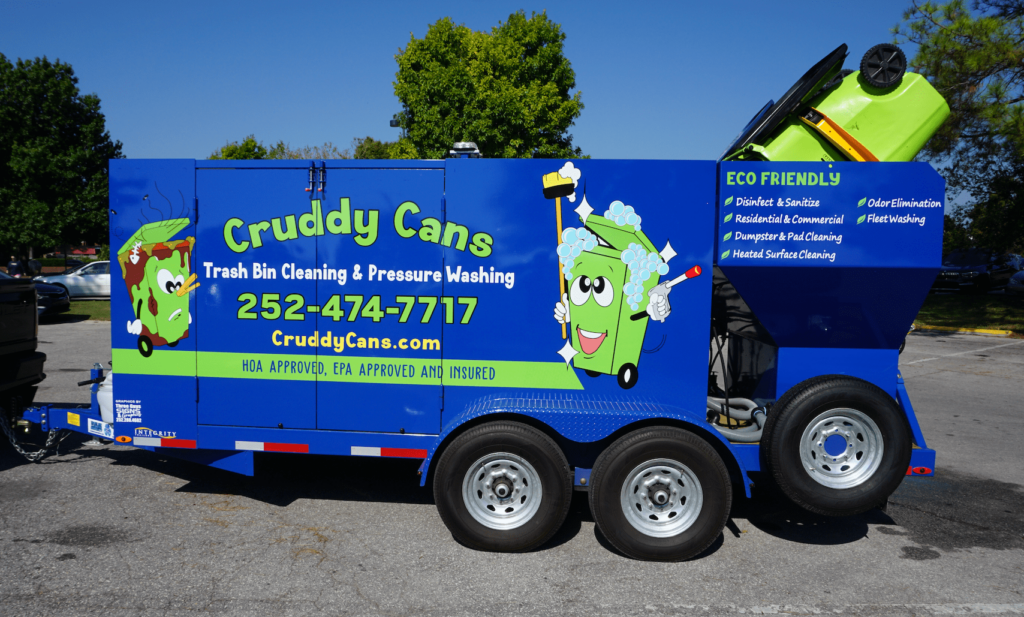 We are the number one maintenance service in Greenville for trash cans, recycle bins, and dumpster enclosures that need cleaning. We have numerous commercial clients who hire us to work on quarterly service intervals to comply with trash disposal codes.
Call our five-star customer hotline today, and discover what sets us apart from other trash cleanup services in Greenville.
Our highly trained employees, cost-efficient cleaning process, and state-of-the-art equipment help us stand out among the hundreds of trash bin cleaning services in North Carolina. We take pride in keeping the Greenville community free of viruses, pests, and diseases, especially in the post-pandemic era when everyone is hypervigilant about hygiene.
If you notice that your garbage bins are getting dirty, give us a call, and we'll give them a five-star cleaning before pickup day. Our cleaning services can eliminate 99.9% of bacteria, germs, and viruses through soft washing techniques and high pressures from industrial power washers.
The Benefits of Cleaning Your Dirty Trash Bin
The health benefits of cleaning your dirty garbage bins are self-explanatory. As commercial and household garbage accumulates, it invites more disease-causing bacteria, germs, and wildlife such as raccoons and squirrels to invade your property. If you own a business, you should schedule monthly or quarterly cleaning to avoid health code violations.
Greenville is our favorite service area because of its businesslike and disciplined attitude towards cleaning waste disposal areas. However, we still have numerous clients who learn the value of our services the hard way.
Regularly Cleaning Your Garbage Bins Improves Curb Appeal
Most trash bins in North Carolina sit on the curbside where everybody can see them. If they're a mess, it will reflect poorly on your image as a resident or business owner. Cleaning your bins is one of the most cost-effective ways to spruce up and keep your home and company exteriors in stellar condition.
We recommend that you sanitize your bins monthly, especially during summers when the increased heat from the sun accelerates the growth of bacteria.
Clean Your Trash Cans to Eliminate Germs and Microbes
Your garbage cans serve as the temporary home of many substances that can spread disease when left unchecked. Contact with used diapers, old food, and medical waste such as used masks can lead to listeria, salmonella, and E. coli infections.
Hiring a cleaning service will allow someone with training, professional experience, and specialized equipment to face the health risks of handling these toxic materials instead of you or a family member.
Nip Infestations in the Bud with Our Monthly Service Package
Cleaning out the standing dirty water from your trash bin will help you get rid of mosquito and fly larva and cockroach eggs. These insects need moist organic material to build their nests and hives, and they breed throughout the year. If you're tired of chasing them around the house or yard, it's a sign that it's time to give your trash bin a professional cleaning.
Enjoy a Broad Range of High-Quality Sanitation Services
We offer our industry-leading cleaning process to all consumers who would like their trash or recycle bins cleaned. We do routine maintenance for condominium complexes, municipal offices, and single-family homes. Enjoy a broad range of bin washing services no matter where you are in Greenville.
We provide bin cleaning and waste disposal services to many construction crews in NC. Our cost-effective cleaning process allows them to include us in even the tightest project budgets.
Commercial Bin Sanitation
A health-related lawsuit could cause you to lose your license. Protect the health of your workers and clients by regularly sanitizing your commercial bin area.
Medical waste disposal areas are among the most dangerous to clean for DIY-ers and newbies to the waste removal industry. Our speedy and cost-effective work process can save you from contracting serious diseases like hepatitis and meningitis. Remember to hire only licensed and experienced professionals for this type of job.
We Have a Proven Track Record
We provide great service to many property managers, small business owners, and residents in Greenville by cleaning their garbage bins as thoroughly as if we were sanitizing our home trash cans. We're meticulous in our work because we believe our job is a public service.
Our Services Keep the Area around You Clean and Healthy
If you leave a dirty dumpster on its own, it can affect miles of residential, commercial, and farming areas near your location. It can easily transmit E. coli by letting dirty water flow into drinking sources. It can contaminate the soil, air, and wildlife and cause health risks to people by spreading viruses.
Professionals from Cruddy Cans can sanitize all types of dumpster enclosures. We'll save you time and money by dealing with the smelly mess your clients or tenants leave behind.
We are the top-rated trash bin cleaning company in all our service areas, taking the top review spot on many independent websites and social media pages. We would be proud to count you among our thousands of satisfied clients.
Get the Best Professional Cleaners in Greenville
Whether it's your first cleaning or your one hundredth, you can expect only the best from our fully insured and licensed dumpster cleaning team. We offer an ironclad 100% satisfaction guarantee, which we maintain by always doing the job right the first time. Call Cruddy Cans today at
252-474-7717
and get a free quote from our experts.